Book and Lyrics by Timothy Knapman
Music and Lyrics by Stuart Matthew Price
Chaotic, open-hearted and imaginative Milo is Sam's only friend. They do everything together. But as Sam's first day at secondary school approaches, his mum is worried that the mischievous Milo is holding her son back, stopping him from growing up.
School turns out to be full of surprises – and secrets. Can Sam and Milo's friendship survive in this new world, where a painful revelation threatens to change their lives forever?

First performance:
The Other Palace, London; August 2017
Directed by Shaun Kerrison
Choreographed by Anthony Whiteman
Musical Director/Orchestrator Charlie Ingles
Produced by Jeremy Walker for the NYMT Reviews:
✭✭✭✭✭"The tunes are gorgeous … book and score are tremendous. Knapman's book and lyrics indulge in glorious wit and charm, complete with thrilling revelations and even the odd cliffhanger. Price has written an equally dreamy score, with melodies that you can't help but find yourself whistling all the way home." Jonathan Baz
✭✭✭✭"Entertaining and tremendous fun … a heart-warming musical. Very funny and deeply poignant with joyfully exuberant performances, Imaginary's narrative and music hit all the right notes." The Upcoming
Listen: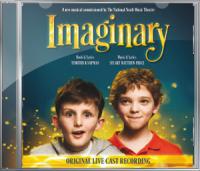 CD reviews:
"Price's music is one of the show's greatest assets, consisting of divine orchestrations by Charlie Ingles, paired with stunning vocals … the harmonies are also pitch perfect and are balanced exactly right within the tone of the production … certainly a show to look out for in the future and is destined for great things going forward … the perfect musical for children and adults alike." Jenny Ell, BroadwayWorldUK
9/10 "The story is engaging, the songs are catchy and, on occasion, incredibly funny. If you don't laugh out loud at 'Those Were The Days', where the teachers sing about the halcyon days of corporal punishment in schools, then there's something wrong with you.
It's mainly a musical for kids, but adults will also get a huge kick out of it too." Darren Rea, Review Graveyard
"It will make you cry no matter how old you are" Ought To Be Clowns
"✭✭✭✭✭ it is a corker!" Musical Theatre Review

Buy recordings:
Original London Cast Live Recording Released 10th September 2018 – Catalogue No: SimGR-CD034